Grand Griffon Vendeen
Other names: Large Vendéen Griffon
Not to be mistaken for the Grand Basset Griffon Vendeen (how could you?), the Grand Griffon Vendéen is nonetheless part of that shared extended family hailing from the Vendée region of France. In fact, the Grand Griffon Vendéen is the first and largest of the lot. A long and distinguished-looking mop of a dog, he's friendly and sociable but can be a little arrogant at times. He has high exercise needs, which - along with his wilful behaviour - makes him an inappropriate choice for all but the most fitting of families.
Comment
Key facts about the Grand Griffon Vendeen
Life expectancy :
Temperament :
Hunter
Size :
Access the rest of the content after the ad
Loading advertisement ...
Origins and history
Traced back to the Gaul's own hunting doggo of choice, the Canis Segusius, this creature split into manifold griffon-type hunters due to selective breeding in the 16th century; but this remains the main chap, with other griffons and smaller griffon bassets from the Vendée region tracing their lineage to that venerable old man, the Grand Griffon Vendéen. It had almost completely disappeared during the Second World War but the breed was recovered today. However, it is not very widespread, especially because the large packs, in which it was used to hunt wolves, no longer exist.
FCI breed nomenclature
FCI Group
Group 6 - Scent hounds and related breeds
Section
Physical characteristics of the Grand Griffon Vendeen
Adult size
Female : Between 24 and 26 in
Male : Between 24 and 27 in
Weight
Female : Between 66 and 77 lb
Male : Between 66 and 77 lb
Coat colour
Black with white spotting, black with tan markings, white with fawn (orange) spotting, charcoal fawn (with or without white variegation).
Type of coat
Bushy and harsh with a dense undercoat.
Eye colour
Brown
Description
This is an old breed, and it shows. The Grand Griffon Vendéen has the look of a dusty, cobwebby old sheep, but with warm, friendly, intelligent eyes and ears like the blankets at a forgotten rural B&B. Longer than he is tall, his legs were bred to prevent him wandering too far from the horse-mounted hunters with whom he rode; but he's still a whopper of a dog, and the real giants of the breed have an almost supernatural sense of enormity in their gait. His face is long and begs repeated attempts at the snoot challenge.
Good to know
The 'Grand' in his name refers to the size of game he is suited to hunting rather than his own size. That said, among 'Grand' hounds this is one of the grandest.
Temperament
Affectionate

He is certainly friendly and warm.

Playful

This dog loves a challenge and intelligent interaction.

Calm

The Grand Griffon Vendéen has a strong character that should be channeled to help him be calm at home.

Intelligent

He is a moderately intelligent dog.

Hunter

Yes, this dog is a natural hunter and will have a keen eye (and nose) for both small furry moving things and larger game such as fox.

Fearful / wary of strangers

If not well socialised, he may be fearful or even aggressive towards humans he does not know.

Independent

As with many a scenthound, this dog can be highly independent, working on his own and making decisions about his general daily life that you may not fully agree with – often on the basis of a passing smell. Nevertheless, he still needs regular human contact.
Behaviour of the Grand Griffon Vendeen
Tolerates solitude

He prefers company, but may be left alone if his needs have been met.

Easy to train / obedience

This dog is pretty clever but that just means he has his own ideas about things. Training is a challenge and requires discipline, perseverance, and kindness.

Barking

He is loud and likes to sing and bark, sometimes just because he's happy being a dog.

Tendency to run away

He is prone to refusing to return if he catches a whiff in the park. He might also attempt to escape the garden if under-stimulated.

Destructive

He may chew or dig excessively if not given something better to do.

Greedy / Gluttony

He tends to the gluttonous end of the spectrum. This can be handy for training, but be careful not to overfeed.

Guard dog

Most Grand Griffon Vendéens are suspicious of strangers, and know how to emit a dissuasive bark.

First dog

This hound's willfulness and the challenge of training him make the Grand Griffon Vendéen an unwise choice for first dog.
Access the rest of the content after the ad
Loading advertisement ...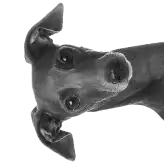 Lifestyle
Grand Griffon Vendeen in a flat

He is much more of a country dog. An apartment, especially in the city, may cramp this hound's style.

Need for exercise / Sporty

He needs at least one hour of serious exercise a day to satisfy his mental, physical, olfactory and social needs, and preferably space to stretch his legs (i.e. in a garden) when not out on a run. Compromise on these ideals, and you will have a bundle of untameable energy on your hands.

Travelling / easy to transport

His large size does not allow him to follow his humans easily in all their travels.
Compatibility
Grand Griffon Vendeen and cats

Not advisable. This dog will only tolerate a cat with whom he was raised. All others (and rabbits, hamsters etc.) fall distinctly into the category of 'prey.'

Grand Griffon Vendeen and dogs

He loves other dogs and will live well with them. If he doesn't live with other dogs, he must be socialized from an early age with plenty of other dogs, so that he can develop his canine codes.

Grand Griffon Vendeen and children

He will play very kindly and enthusiastically with kids he knows, but it is preferable that they all grow together to ensure a harmonious cohabitation.

Grand Griffon Vendeen and the elderly

This dog may be a bit much to handle for anybody who will struggle to train him or, more particularly, deliver the exercise regime he requires.

%}
Price
We do not have enough data to give an average price. Looking after a dog of this size typically costs between £80 to £130 a month, including food, medical/insurance, and incidental expenses.
Grooming
His hair should be well cared for, because it has a tendency to tangle.
Shedding
Nutrition of the Grand Griffon Vendeen
It is advisable to feel this dog with traditional fare, such as meat, fat or offal, accompanied by cereals, rice or pasta. Not to be overdone, and best divided across multiple daily feedings.
Health of the Grand Griffon Vendeen
Life expectancy
This is a pretty healthy hound with an average life expectancy of 12 years.
Strong / robust
This dog is hardy and ready for action, but can sometimes be hurt during a hunt.
Withstand heat
Quite well, but use common sense in a heat wave.
Withstand cold
Very well thanks to his undercoat, and can live outdoors all year round without many problems.
Tendency to put on weight
This barrel of an old man may well take on a few extra pounds if under-exercised and over-fed.
Common illnesses
Gastric torsion (bloat)
Luxating Patellas